FAQs
How are Royal Condoms different from other condoms?

Unlike other condoms, Royal Condoms are 100% vegan. None of our condoms contain casein (an animal derivative) that makes condoms smell bad. Our condoms are also made with healthy all natural materials and ingredients and we don't use pesticides or preservatives that could harm your body.

How are Royal Lubricants different from other lubricants?

Royal water based aloe infused lubricants are formulated with no harmful chemicals, petroleum, glycerin, no silicone, no parabens, and no gluten. The lube is vagina friendly (maintains pH between 3.8 and 4.5), fragrance free, 95% organic and vegan friendly. Other lubricants use harmful chemicals that cause irritation, itching, rashes and discomfort.

How are Royal Body Wipes different from other wipes?
Royal body wipes are made to be genital safe and body friendly. They are infused with aloe extract and vitamin E to moisturize your sensitive areas to prevent discomfort to keep you refreshed, longer. Each wipe is eco friendly, biodegradable, and flushable. They are also alcohol free and fragrance free to prevent rashes, discomfort, itching, and burning.
How much does shipping and handling cost?

Standard shipping and handling is free for all orders $50+ within the US. We do ship to selective countries outside the US at an additional cost.

 We now ship internationally to select countries: Austria, Belgium, Croatia, Cyprus, Denmark, Finland, France, Germany, Greece, Hungary, Ireland, Italy, Netherlands, Portugal, Spain & Sweden.

Duties and fees are not calculated, collected, or paid by us. Payment of any and all duties & fees once the package has shipped from our facility, is the sole responsibility of the recipient.

Refunds and Returns
We are unable to accept returns if the products have been unwrapped from packaging or that have been opened. Shipping costs will not be refunded. There is no charge to return items. We will provide a shipping label; please emails hello@alwaysberoyal.com to receive your return label.
How does Royal show up on my credit card statement?

Don't worry, our shipping and the way we show up on your credit card statement is 100% discreet. Royal will show up as our holding company, M3 Global Enterprises LLC as "SP * M3Global Brands".

I heard latex condoms smell funny. What about Royal?

Royal natural condoms are completely odorless and clear. Royal flavored condoms are covered in a silicone based, food-grade, organic flavored lubricant which is added to the outside of the condoms. These flavors give off a scent rather than those funky latex smells. 

Can I use Royal premium lubricants on condoms?

You can absolutely use Royal lubricants on condoms. The lubricant is safe to use with latex, polyisoprene, and lambskin condoms.

Does Royal Lubricant have a flavor or scent?

Nope. Royal premium personal lubricant has no fragrance and has no flavor. Even after use, there is no residual smell. You can also use the lubricant on flavored condoms and it won't alter the flavor.

Is Royal Lubricant safe to ingest?

Yes! Royal lubricant is made with all natural food grade ingredients. If it's used during oral sex or accidentally ingested, don't worry, you or your partner are completely safe.

Can I use Royal Lubricant for oral and/or anal sex?

Absolutely. Royal lubricant is a water based formula and made with no harmful chemicals, making it safe for vaginal, oral, or anal use.

Can I use Royal Lubricant with adult toys?

Most definitely. Royal lubricant can be used with adult toys ranging from dildos to anal beads and everything in between. Also, our water based formula makes it easy to clean after use.

How do Royal Condoms hold flavor?

The silicone based lubricant holds the organic, food-grade flavorings. They are mixed together before being added to the outside of our condoms. These flavors give off a scent and taste rather than those funky latex smells.

Is the flavored lubricant on the condoms scented?

Yes, our flavored lubricated condoms have strawberry and chocolate flavorings. These flavorings give off a pleasant scent that mask any unwanted smells that no one likes to experience before, during, or after sexy-time.

Is the flavor harmful to my partner during intercourse or oral sex?

Not at all! Because our silicone based lubricant is organic and food-grade, there is no risk for harmful effects when ingested orally or through intercourse. Of course, remember to wash thoroughly afterward.

Can I safely use lubricant with Royal Condoms?

Yes! Just make sure to use water based or silicone based lubricants only. Certain oils can mess with the latex, and that's not a good thing.

Can I use body oil, gels, or other non-water based lubricants with Royal Condoms?

Unfortunately not. Back away from the body oil--and be careful if massage is part of your warm up routine. Latex condoms can potentially be destroyed by these substances. Go for water based or silicone based lubricants instead.

Are Royal Condoms reusable?

Absolutely not. After each use, throw it away carefully in the garbage. 

Can I use Royal Condoms for anal sex?

Yes, of course! For maximum comfort and safety, you may need to apply some extra lubricant on the outside of the condom. This will reduce the risk of the condom slipping or breaking. Remember to use water-based or silicone-based lubricants only.

Can I use Royal Condoms underwater or in the shower?

Avoid swimming pools, murky water, soaps, oils, and other chemicals. Take extra care to watch out for condom slippage or breakage. Other than that, you are good to go.

How do I know if I am allergic to latex condoms?

If you've used latex condoms, balloons, or gloves in the past without issues, you should be fine. However, please see your healthcare provider if you are concerned about having any allergic reactions to Royal condoms.

How does Royal test its condoms for quality?

Quality control is our highest priority. All of our condoms go through testing at our manufacturing facility as well as at an unbiased, third-party facility to make sure you receive only the best of the best.

Condoms are controlled by the FDA as a Class II medical device, which means that all condoms sold in the U.S. must adhere to particular performance standards. All of our condoms are electronically tested to seek out holes or areas of thinning and to ensure quality and performance.

Where and how are Royal Condoms manufactured?

Royal Condoms are manufactured in Malaysia at our award-winning, FDA compliant facility. This center is meticulously managed to regulate and provide the best product out there.

What is the best way to dispose of condoms?

Carefully toss it in the garbage after you are done, do not place condoms in the toilet.

Are Royal products safe to use during pregnancy?

Of course. Our condoms and lubricants are safe for all phases of pregnancy.

How does a Royal subscription work?

Navigate to the condom or lubricant page of your choice

Select "Subscribe & Save (15%)"

Choose the delivery frequency; every 30, 60, or 90 days

Click add to cart




Checkout: We will ask for your credit card information at checkout, but don't worry, you'll only be charged once your condoms are shipped to you.

Royal will not grant a refund/cancellation after a renewal order is placed, is being processed, or has shipped, which, depending on the service you choose, occurs automatically every 30, 60, or 90 days after signing up for your subscription. However, if you reach out to us and provide us with information to justify a refund/cancellation, and if granted, you will receive a full refund but will still assume a penalty of $10 plus any handing costs related to your order.

How long does shipping take?

Initial orders and automatic subscription membership orders shipped by standard shipping arrive in 7-10 business days. 

What is Route protection that is added to my order?

We've partnered with Route—a package protection and tracking solution—to give our customers the best possible delivery experience. Route provides low-cost shipping protection to protect your package in the event that it gets lost, stolen, or damaged while in transit.

Route is also a mobile app that allows you to visually track all of your online orders in one place. No need to dig through your email for tracking numbers. Route's dynamic maps and real-time shipping updates keep you in the loop throughout every part of your delivery. The Route app is available on Android and Apple app stores.


If I have Route protection, how do I file a lost, stolen, or damaged claim?

If you experienced an issue with your order, please file a claim with Route's team here.


How do I cancel my subscription?

Just head over to your account profile after you've logged in, and navigate to the "Manage Subscriptions" tab. After that, follow the on-screen instructions and we'll promptly process your request.

Royal will not grant a refund/cancellation after a renewal order is placed, is being processed, or has shipped, which, depending on the service you choose, occurs automatically every 30, 60, or 90 days after signing up for your subscription.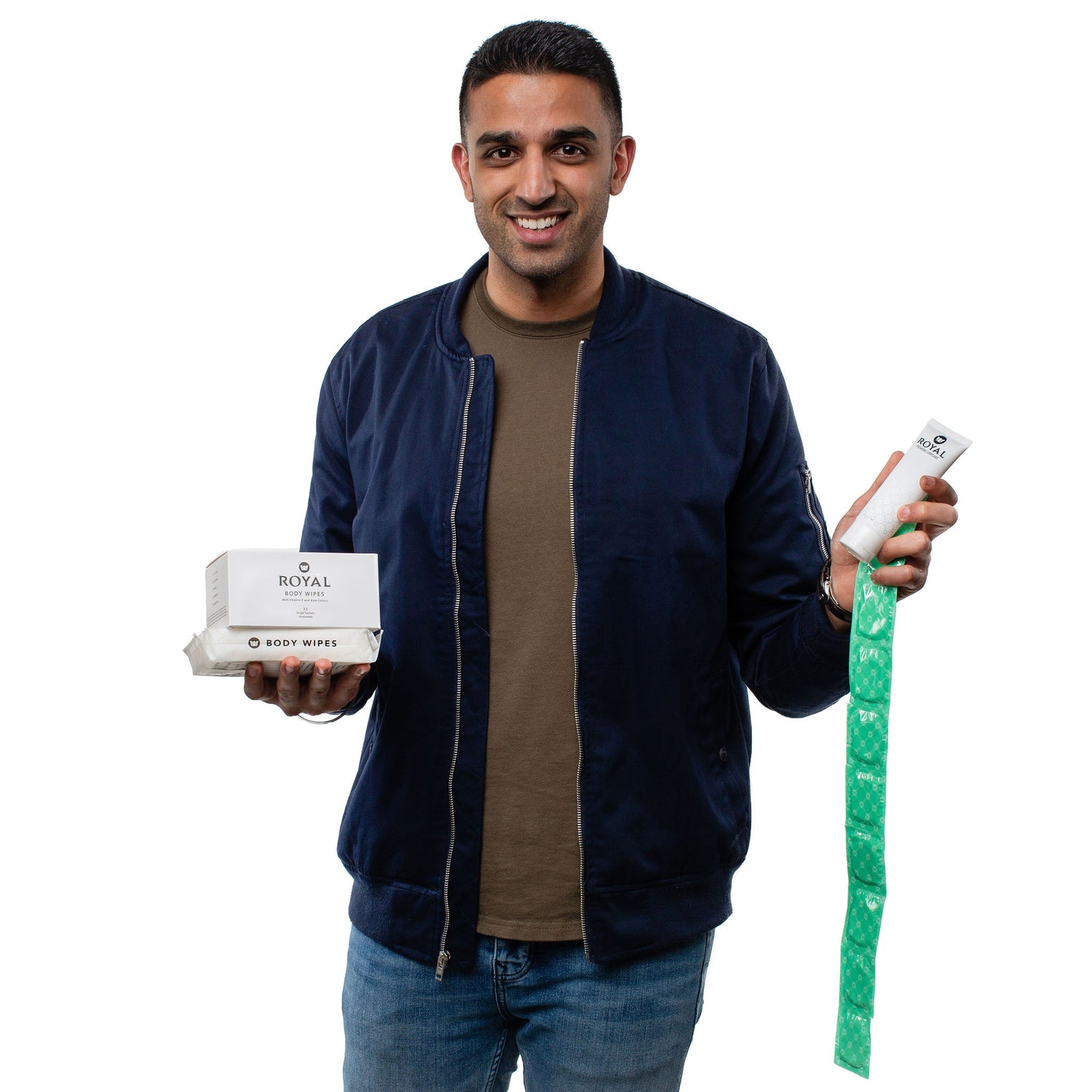 How it all started...
Raised in Dayton, Ohio as an Indian-American I had my first condom buying experience when I was 17. In my culture it's taboo to talk about sex let alone having it, so I ran into the store, picked up the first one that didn't look obvious, and quickly got out of there.
As I got older, my sex life evolved but what I used back then hadn't changed. Brands didn't offer healthy or modernized options and they were often gender-binary focused, further enabling taboos and stereotypes around the category.
After receiving my Master's in Public Health and experiencing an unfortunate condom incident that caused my girlfriend to have a health scare, I decided to bridge my healthcare knowledge with my own experiences to create a brand that focuses on developing healthier, higher quality, and inclusive sexual wellness products for every phase of your intimacy experience.
In 2017, Royal was born...
EXPERIENCE ROYAL