Regular price
Sale price
$18.00 CAD
Unit price
per
Sale
Sold out
Perfect for when you're 'getting it in' on the go, these Individually Wrapped Intimate Body Wipes will clean up any leftover juices after sex, in a healthy more hygienic way. Our Body Wipes are designed with natural ingredients and infused with aloe & vitamin E to maintain your nether region's pH to prevent irritation or discomfort after intercourse. No more awkward moments using a dirty towel or old t-shirt!

Genital (P & V Safe) & Feminine Hygiene Wipe

Moisturizes, Soothes & Calms Sensitive Skin

Gently Removes Odor-Causing Bacteria

Maintains Vaginal pH Balance (between 3.8-4.5)

Vegan, Cruelty Free, Natural Ingredients

Fragrance Free, Alcohol Free

Flushable, Biodegradable
*Same great

wipes

, with a fresh new look. Some orders may contain our old packaging.
Ingredients

Aqua, Aloe Barbadensis Leaf Juice, Cocos Nucifera (Coconut) Oil, Chamomila Recutita Flower Extract, Sodium Benzoate, Potassium sorbate, Polyglyceryl-4 Caprate, Rubus Idaeus Leaf Extract, Cocamidopropyl PG-Dimonium Chloride Phosphate, Propylene glycol, Sodium Chloride, Citric Acid, Vitamin E.
Size & Dimensions

Box - 5.9 in. x 3.7 in. x 2.7 in.

Wipe - 7.8 in. x 7.8 in.
Shipping, Returns 30-Day Guarantee

At Royal, we make things as easy as possible.

US Shipping: Free for every order over $50 (we always deliver in a discreet, stress-free package). And our 3-Day Satisfaction Guarantee allows for returns of unopened boxes within 30 days - no questions asked! Just contact us here.

Route Protection: Things happen, Be worry-free with Route and protect yourself against lost, damaged, and stolen items. By deselecting shipping protection, Royal is not liable for lost, stolen, or damaged orders.

Now Shipping Internationally: Austria, Belgium, Bulgaria, Croatia, Cyprus, Denmark, Finland, France, Germany, Greece, Hungary, Ireland, Italy, Netherlands, Portugal, Spain & Sweden. 

**Duties and fees are not calculated, collected, or paid by us. Payment of any and all duties & fees once the package has shipped from our facility, is the sole responsibility of the recipient.
View full details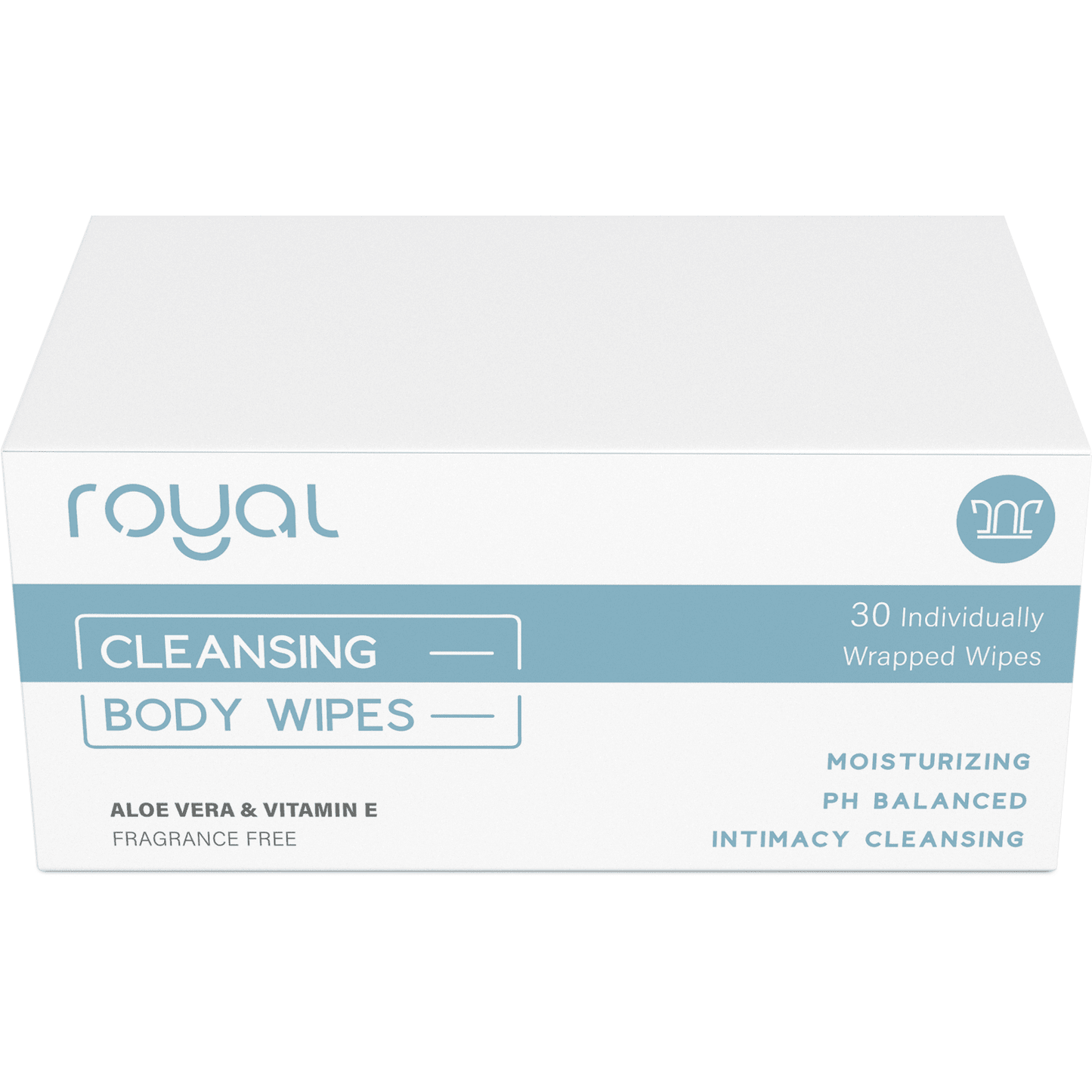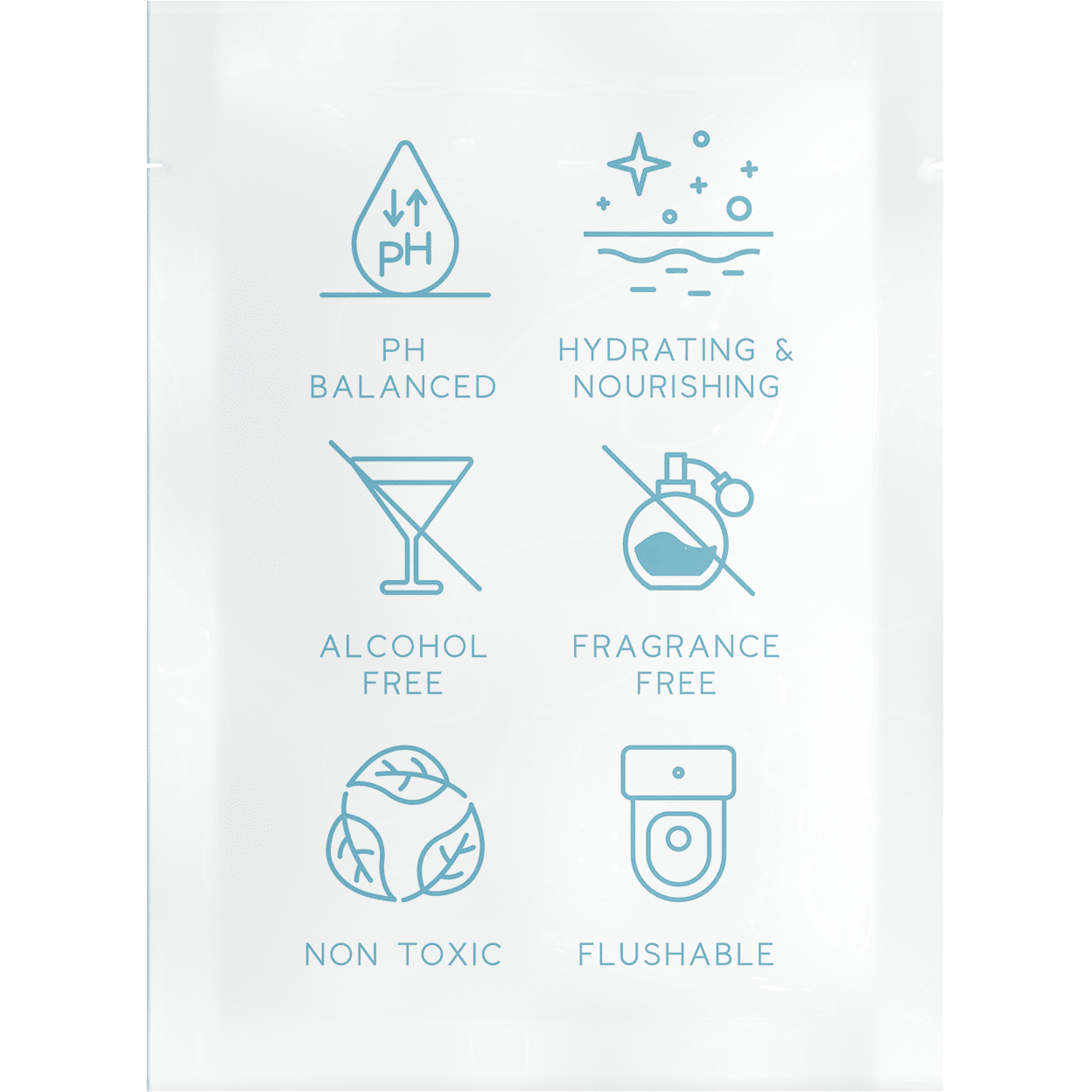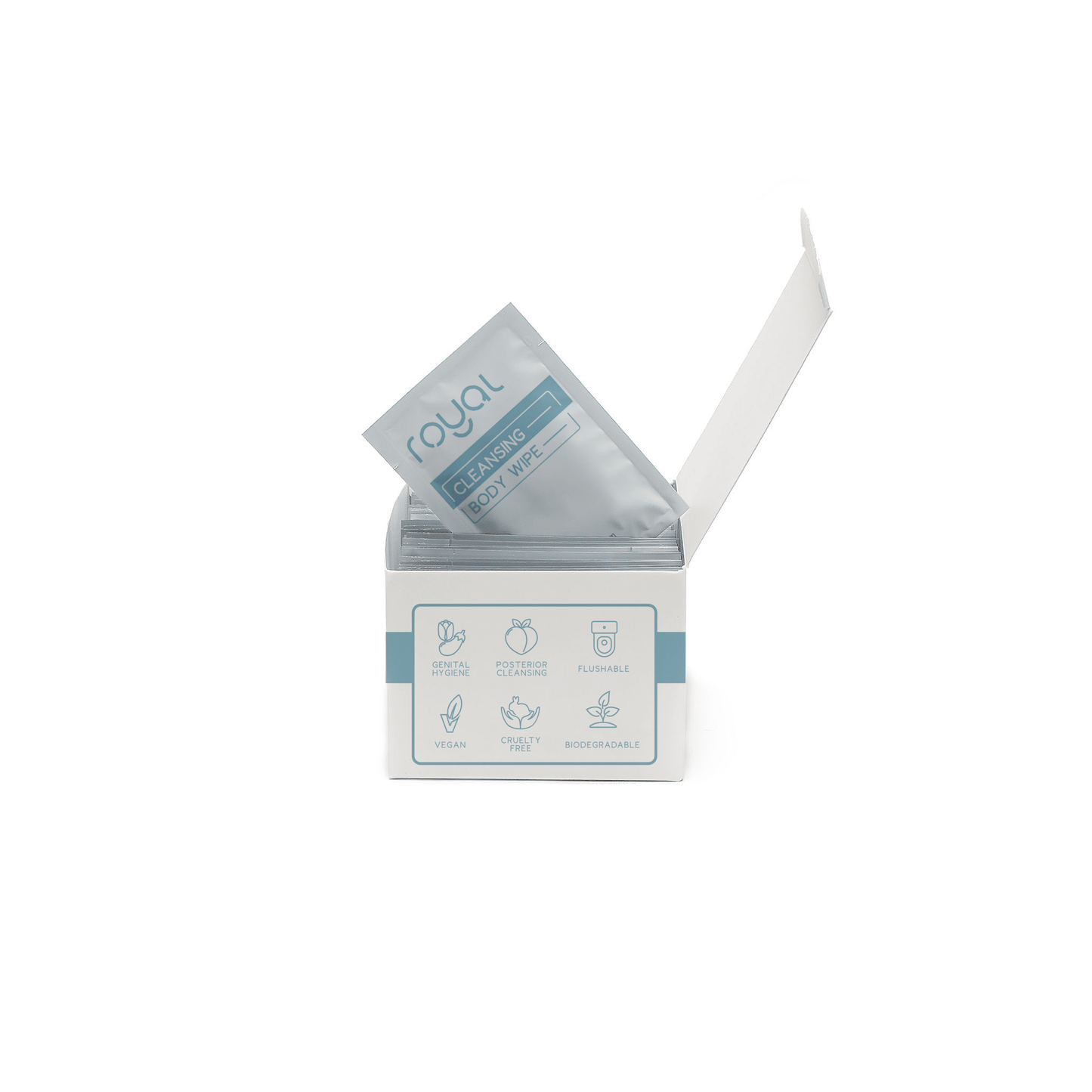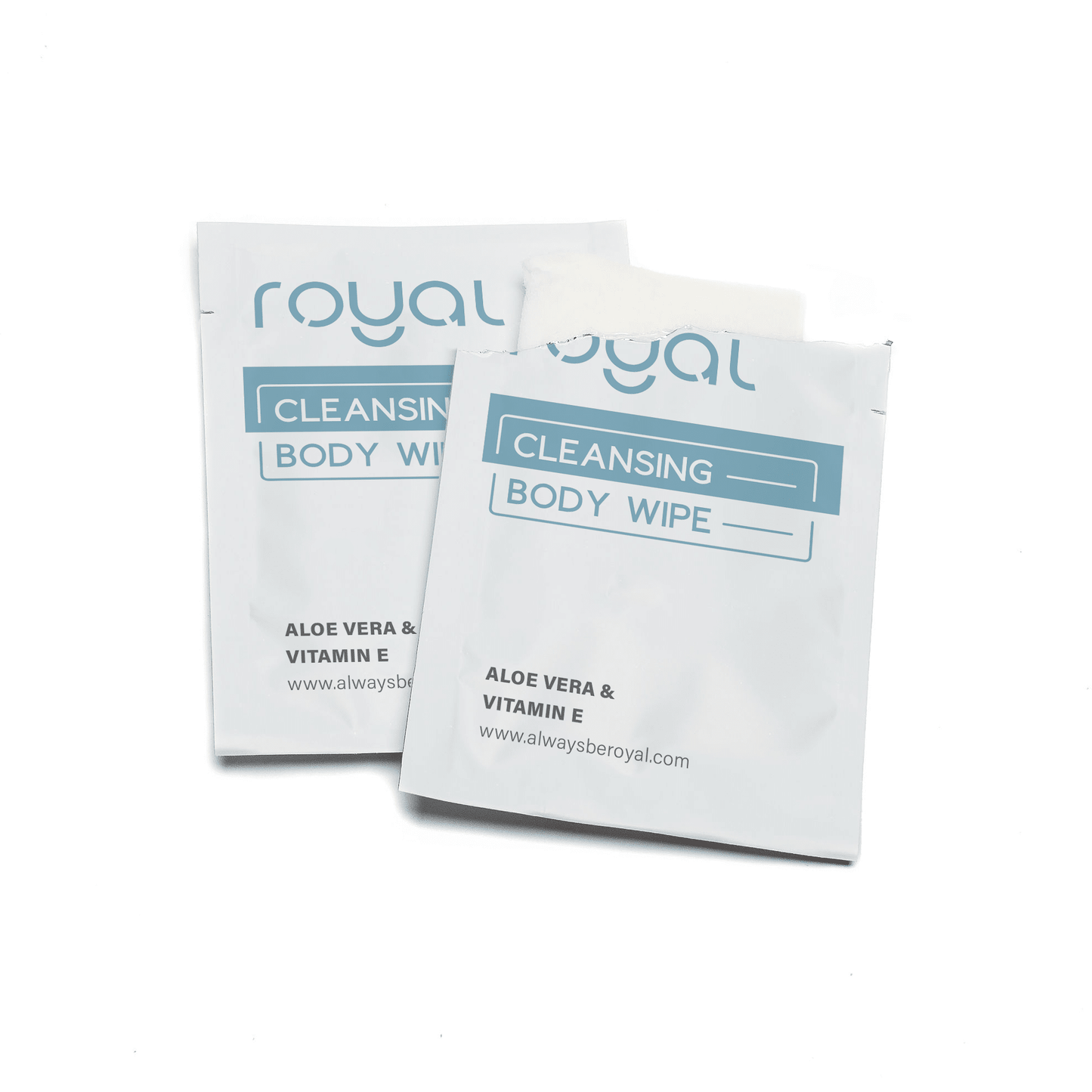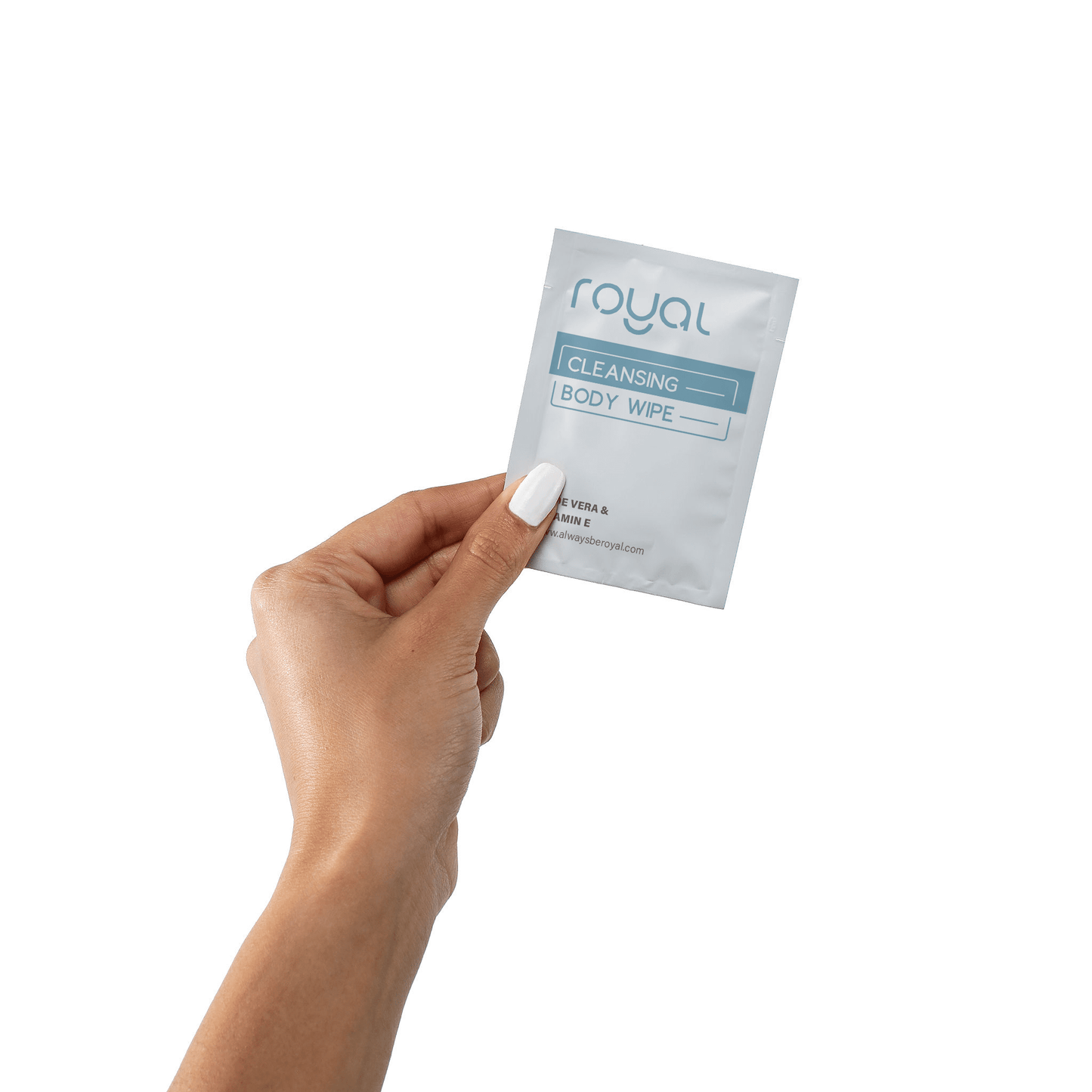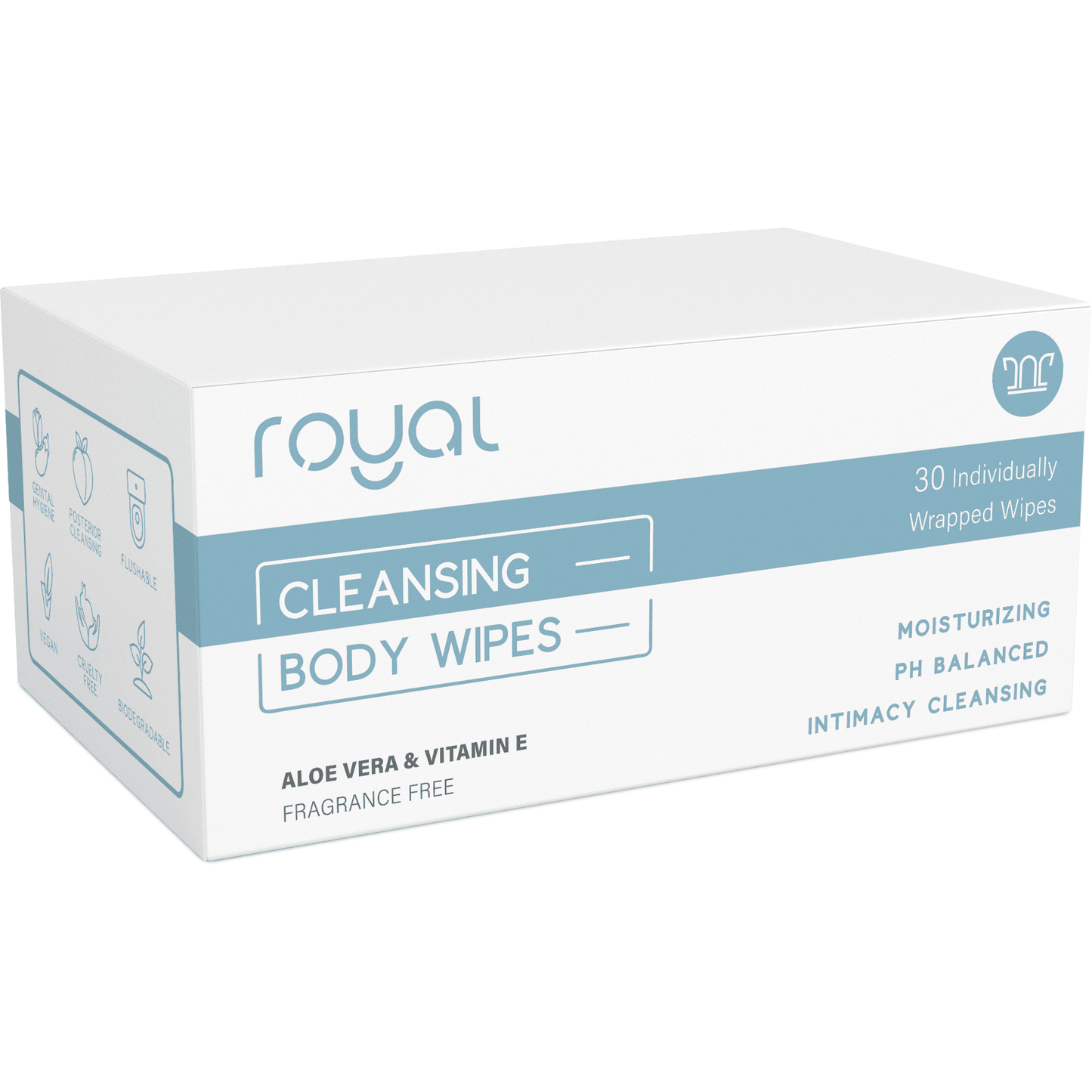 "Highly recommend for post-sex cleansing freshness" - Well+Good
Premium intimate cleansing wipes made with natural ingredients, aloe & vitamin E gently remove odor-causing bacteria, maintain vaginal pH, and soothes sensitive skin.
Natural Ingredients

Anti-Ich

pH Balanced

Removes Odor Causing Bacteria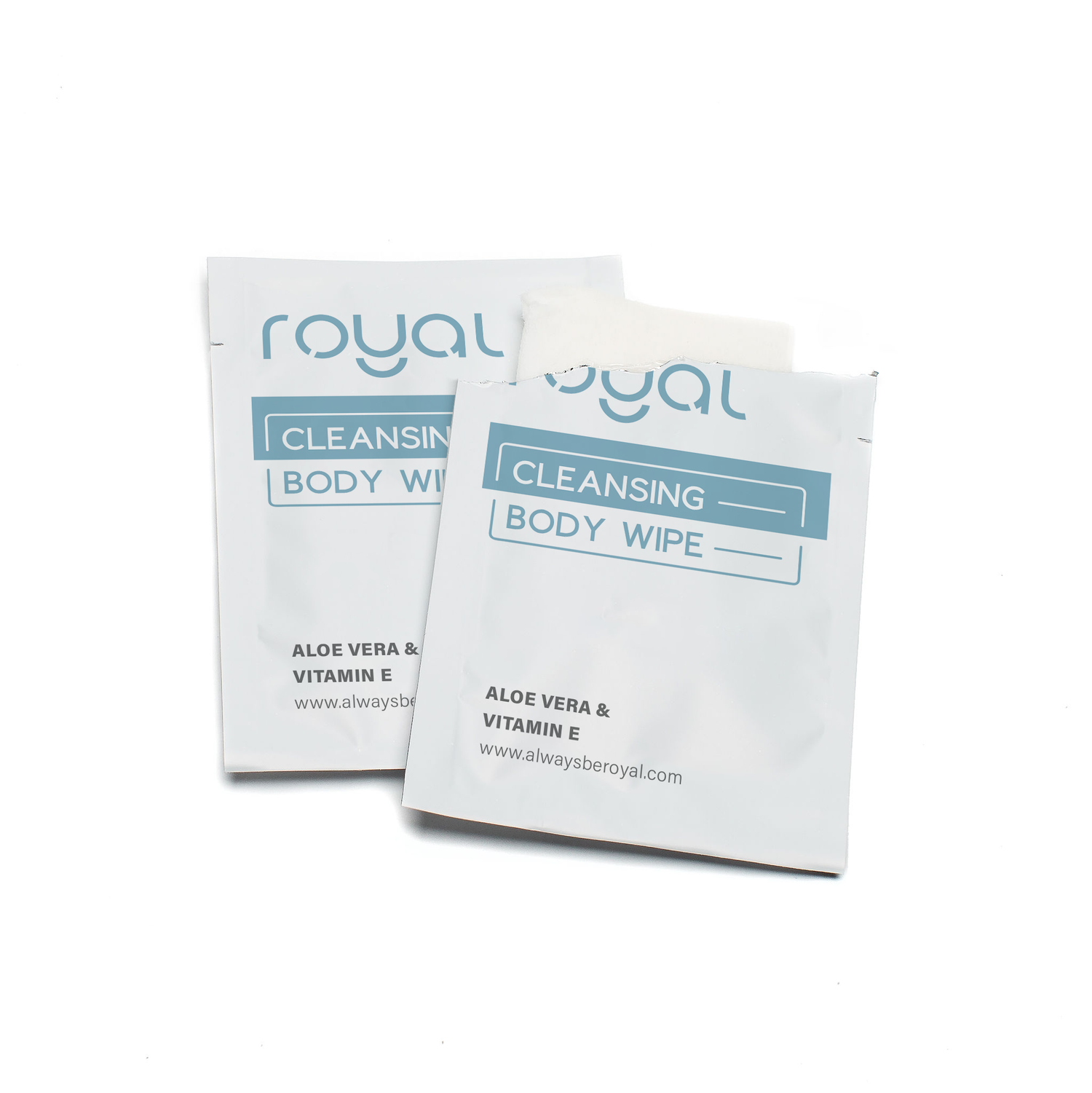 Wipes Me Down
Ultra-soft pH balanced cleansing wipes made to refresh your intimate areas after any kinda of workout.
Cleanse, Balance, Hydrate.
After Sex

Wipes up after-sex fluids or 'drippage'. Cleans genitals and maintains a healthy pH balanced.

Period Care

Gently cleanse and hydrate sensitive vulva skin to keep your vagina happy and healthy.

Posterior Cleansing

Wipes away excess residue while keeping the area moisturized and hydrated.

Anti-Itch Protection

Help soothe itching associated with minor skin irritation.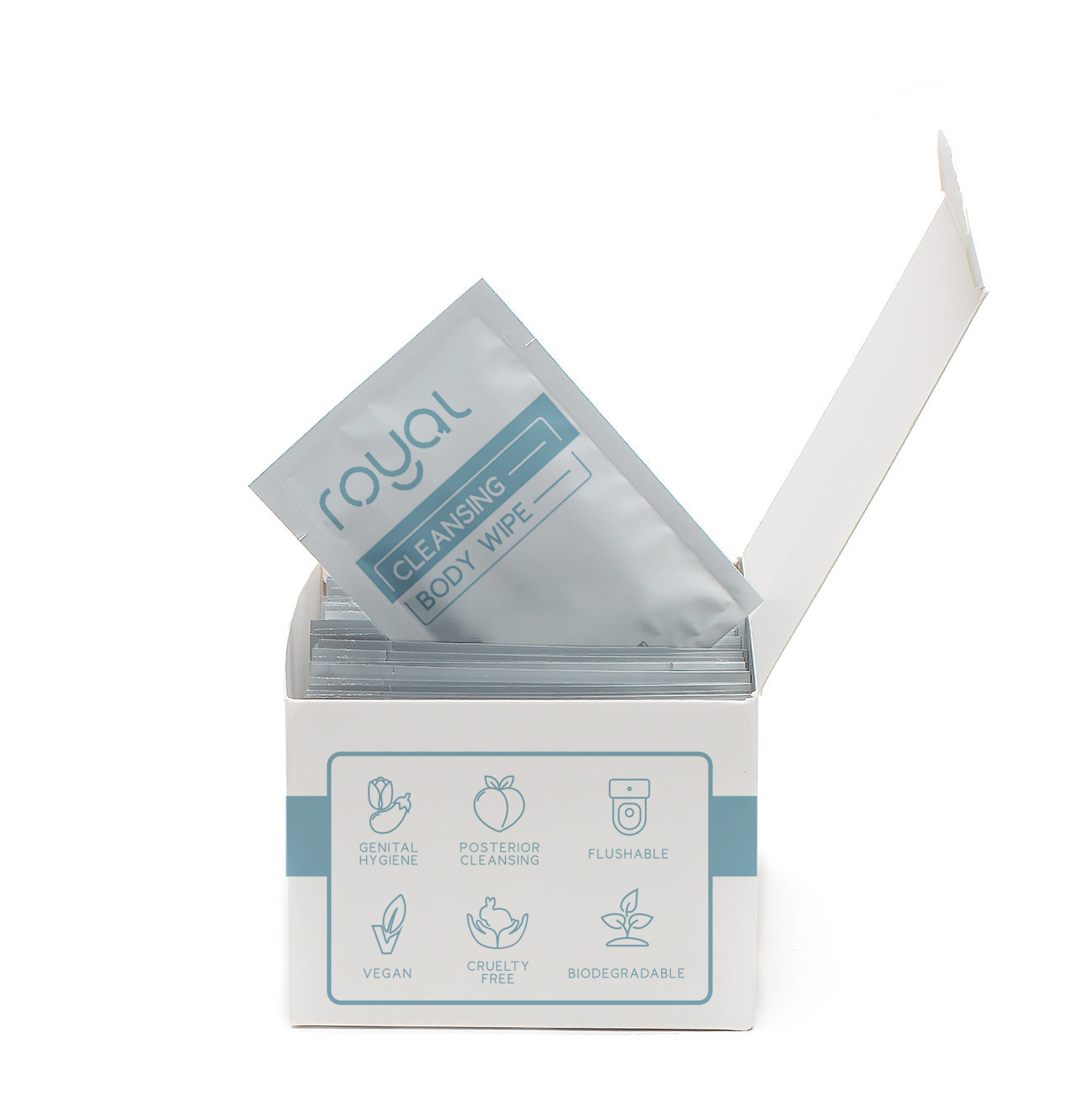 Your Cleansing Companion
Save yourself from the awkwardness of using a towel or old t-shirt and use these wipes for a quick, easy, and refreshing clean up.
What we leave out
Paraben Free

Bisphenol A Free

Fragrance Free

Alcohol Free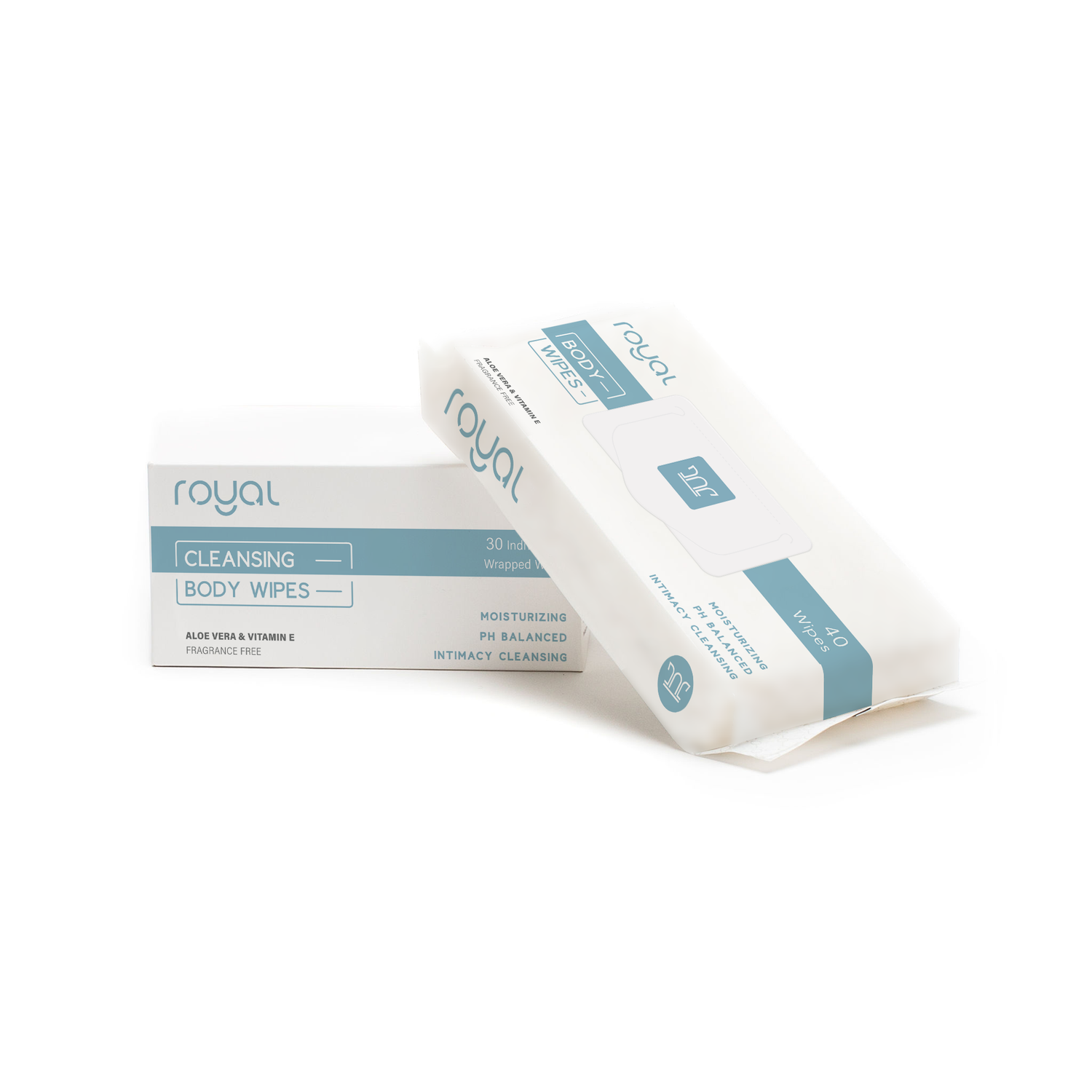 Gently Cleansing Genitals Everywhere
Add to your everyday routine to gently cleanse, hydrate, and refresh your genitals and say goodbye to dryness and discomfort for good.
Answers to all your questions
What is the pH level of the wipes?

The wipes help maintain an optimal vaginal pH level between 3.8 - 4.5.
Are the wipes flushable?

Yes. Royal Body Wipes are flushable and biodegradable.
How big is each wipe?

Royal Individually Wrapped Wipes are 7.8 inches x 7.8 inches.
Are the wipes vegan and cruelty free?

Yes, all of our wipes are 100% vegan and cruelty free.
Are the wipes individually wrapped?

Yes! each sachet or packet contains a single wipes for convenience on-the-go .
Best product ever!!!❤️❤️❤️
These products are designed with natural ingredients and infused with aloe and vitamin E to maintain and prevent irritation or discomfort. The moisturizes, soothes and calms sensitive skin. All these products are vegan , cruelty free and paraben free. These products are so amazing guys!!! You need to try them, they are worth your money and trust me you guys gonna love it😍
Great product
Great service Great product
Very pleased
My partner, and I have enjoyed the convenience of using the wipes
Amazing
I love all these products, These wipes are really thick and can be used anywhere on your body. These clean really well.
Very convenient
Nice to have around, definitely would recommend