Caitlin V, MPH - Sexologist
Caitlin V., MPH, Resident Sexologist at Royal, is a sex and relationship coach who helps people gain confidence, satisfaction, and deep transformation both inside and outside the bedroom. Her effervescent personality and no-nonsense approach to sexuality has made her one of the top sex coaches in the world and among the top sexperts on YouTube.  
A peer sex-educator since the age of 14, Caitlin heard her calling early on in life. After receiving her Master's Degree in Public Health at Indiana University and while working on her doctorate at the University of Texas, she realized that conducting sexual health research did not fully satisfy her need to help people transform their relationships to sex. 
She found that the nature of empirically-based science didn't recognize the full spectrum of strategies for creating fulfilling connections and pleasurable experiences that she wanted to employ. She quickly left her academic position and opened her practice, where she delivers evidence-based and scientifically-backed information along with the strategies for personal growth and development that are the hallmark of a truly gifted coach.
Caitlin combines science with intuition and experience to help clients and viewers through a holistic approach. She is a sex-positive and pleasure-centric educator, facilitator, and lifelong student. She helps her clients have safer sex, find self-acceptance, release shame, trust their intuition, know their desires, create a sense of belonging, develop their confidence as lovers, celebrate the joy of touch, and discover their capacity for romance. 
Caitlin's extensive knowledge and research in women's studies, and behavioral, social, and community health enabled her to pursue a career in sexual health research where she was involved in studies proving the sexual transmission of bacterial vaginosis, the world-famous "coregasm" research, and the development of a sexual events recording tool to help pinpoint the moment of STI transmission, among others. Caitlin received her Master's in Public Health from Indiana University.
Learn more about Caitlin V. 
Subscribe to her YouTube Channel  
Follow her on Instragram
*

Caitlin V. is not a therapist, mental health expert, or healthcare provider, nor does she provide medical, financial, legal, or certified counseling advice.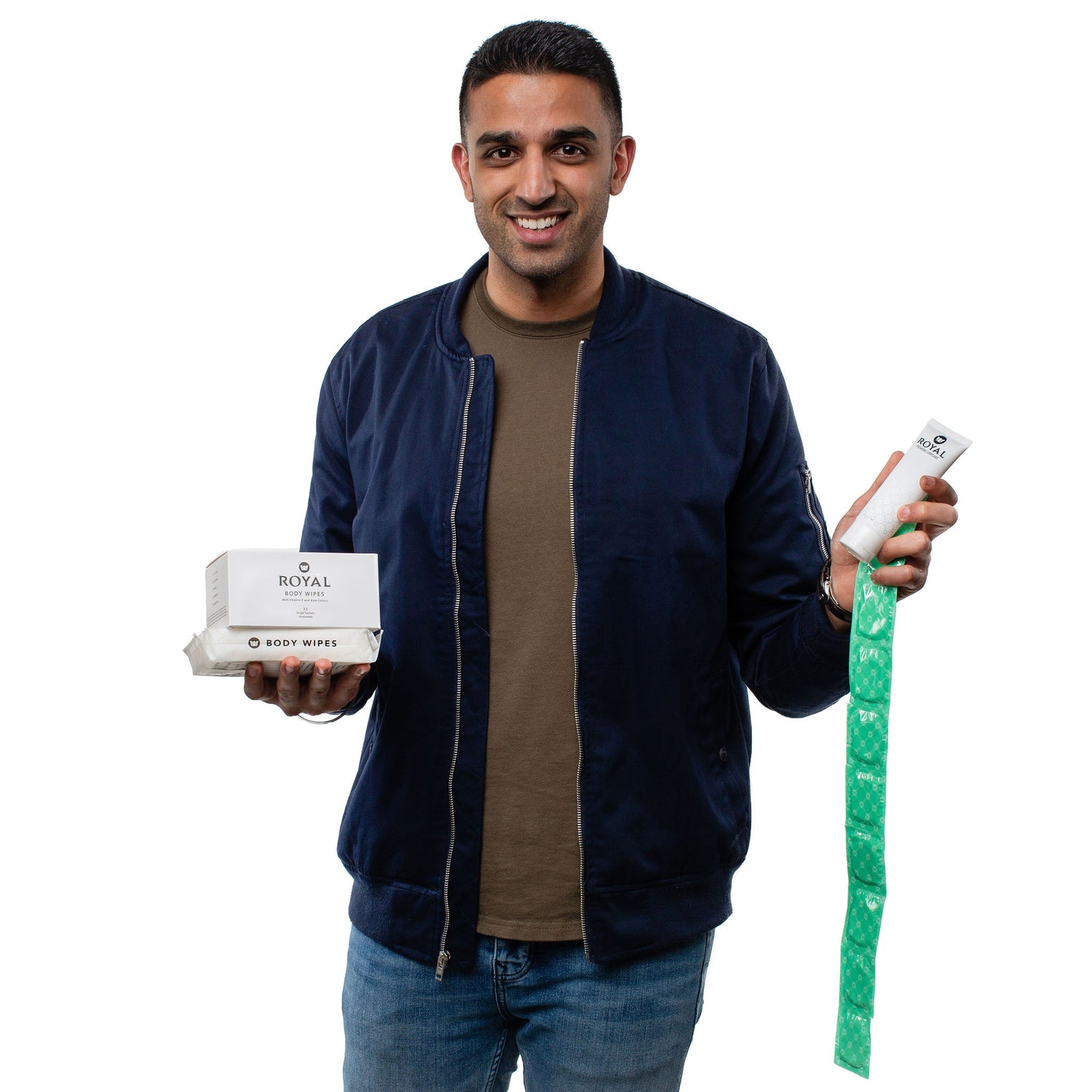 How it all started...
Raised in Dayton, Ohio as an Indian-American I had my first condom buying experience when I was 17. In my culture it's taboo to talk about sex let alone having it, so I ran into the store, picked up the first one that didn't look obvious, and quickly got out of there.
As I got older, my sex life evolved but what I used back then hadn't changed. Brands didn't offer healthy or modernized options and they were often gender-binary focused, further enabling taboos and stereotypes around the category.
After receiving my Master's in Public Health and experiencing an unfortunate condom incident that caused my girlfriend to have a health scare, I decided to bridge my healthcare knowledge with my own experiences to create a brand that focuses on developing healthier, higher quality, and inclusive sexual wellness products for every phase of your intimacy experience.
In 2017, Royal was born...
EXPERIENCE ROYAL