Refund Policy
30 Day Satisfaction Guarantee*
We take anything back if you are within the 30-day time period. If you are not 100% satisfied with the product we will take it back no problem. 
Kindly note that return shipping costs are the customer's responsibility and we can only refund what was paid directly to us. Contact customer service for return instructions.
Should you not be within the 30-day grace period, our return and refund policy is as follows.
Returns
To be eligible for a return, your item must be unused and in the same condition as when you received it. It must also be in the original packaging. Refunds will only be processed after the return has been received by our warehouse. Returns will only be accepted if you have already contacted us and the return has been approved.
Free promotional items are not refundable, please do not ship them back. They do not need to be returned.
Refunds
Refunds will be made only after careful consideration of each individual case should you no longer fall under the 30-Day Guarantee.
If shipping label has been printed for the order and refund is requested but the order has not left the warehouse, shipping cost will not be refunded. The refund will only be applied to the products that were originally ordered.
Refunds will not be made for orders with tracking that states the order has been "delivered".
Once an order has been shipped out shipping will not be refunded.
Free promotional items are not refundable.
Royal will not grant a refund/cancellation after a new, renewal or subscription order is placed, is being processed, or has shipped, which, depending on the service you choose, occurs automatically every 30, 60, or 90 days after signing up for your subscription. However, if you reach out to us and provide us with information to justify a refund/cancellation, and if granted, you will receive a full refund but will still assume a penalty of $10 plus any handing costs related to your order.
Duplicate Orders
We are happy and glad to refund duplicate orders should they occur provided that the order has not been shipped out. Should you find that a duplicate order has been made, please contact us immediately and have your Order ID available. This will ensure that we will be able to assist you speedily.
Damaged Products:
All damaged products requires photographic proof sent to hello@alwaysberoyal.com . After the case is reviewed you will be contacted in regards to a reshipment to replace the damaged product.
We at Royal value our customers, if there is anything that is not covered here or you feel strongly about a specific case please do not hesitate on contacting us. For all inquiries, refund or return requests please e-mail hello@alwaysberoyal.com.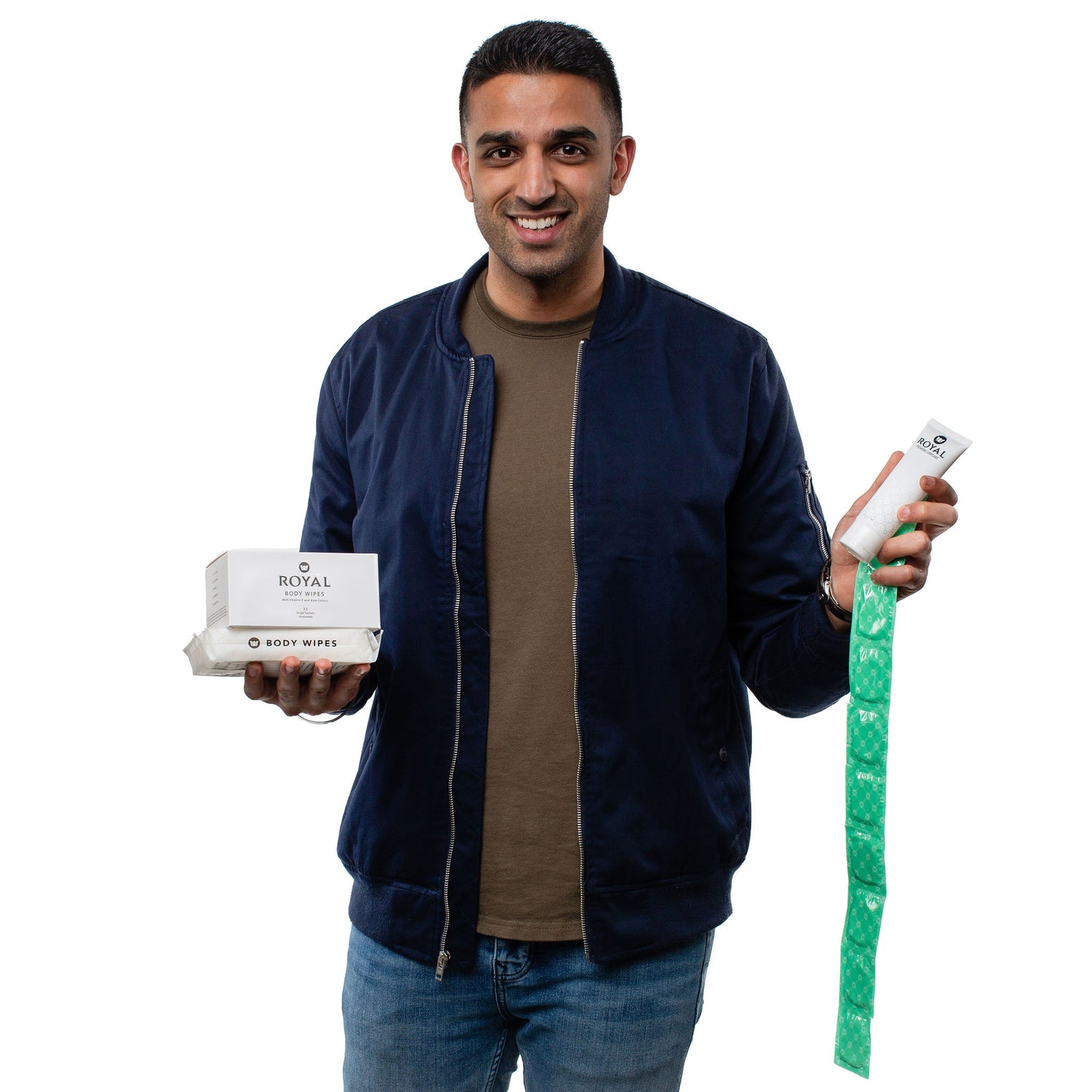 How it all started...
Raised in Dayton, Ohio as an Indian-American I had my first condom buying experience when I was 17. In my culture it's taboo to talk about sex let alone having it, so I ran into the store, picked up the first one that didn't look obvious, and quickly got out of there.
As I got older, my sex life evolved but what I used back then hadn't changed. Brands didn't offer healthy or modernized options and they were often gender-binary focused, further enabling taboos and stereotypes around the category.
After receiving my Master's in Public Health and experiencing an unfortunate condom incident that caused my girlfriend to have a health scare, I decided to bridge my healthcare knowledge with my own experiences to create a brand that focuses on developing healthier, higher quality, and inclusive sexual wellness products for every phase of your intimacy experience.
In 2017, Royal was born...
EXPERIENCE ROYAL